Wow, what is this, three blog posts inside a couple of weeks? I'm about to set a new personal best (since Aidan was born anyway).
At some point, I plan to tell you all what prompted my random return. That is, once I have the courage. It is something really out of left field that I never expected. I confessed it to my therapist the other day and she, in between both of our fits of laughter, said "that might be just a tad disordered... but certainly nothing to worry about." What can I say? I'm an odd duck. I'm okay with it most of the time.
Speaking of my therapist, I know I've mentioned here before that she is amazing. I sort of can't say that enough. She's kind of like an old friend (that I pay to listen to all my "stuff.") Actually, that's not even a sliver of what she does for me. She's a sounding board, a neutral party, a highly educated and brilliant advice giver, a validator (yes I like to invent words) of feelings, and so much more.
This is actually my second therapist. The one I saw back in my hometown was great, but this one is a whole other level and fits me like a glove. Maybe best of all, she completely understands - and doesn't judge - my desire to treat the anxiety I have developed in the last few years without medication.
Let me be clear, here. I'm not vilifying medication or judging anyone who uses it. I have used it before and for a while it worked beautifully. And then it didn't. So I stopped it - and become very sick in the process. I vowed at that time never to use it again unless I had no other options.
In the last five or six years, my anxiety has escalated from an occasional nuisance to a daily battle. I would estimate I have about four days per year that I experience no anxiety at all. Four days. That's not many out of 365. A year or two ago, I started having panic attacks. Super enjoyable. This year, I have also experienced my first nocturnal panic attacks. This consists of literally waking up out of a dead sleep mid-panic-attack. I have had three or four of these so far. I wake up with a racing, pounding heart, feeling like I'm gasping for air. (And no, it's not sleep apnea. I do have that but I use a CPAP.)
Still, I don't want meds. I am determined to continue to fight this with other tools unless or until they don't work anymore. Enter the amazing therapist, who has taught me so many coping strategies for my anxiety and panic. Grounding exercises, positive self-talk, breathing techniques, therapeutic writing, and bilateral stimulation are all tools that she has taught me to use on a regular basis to help me cope with this beast called anxiety. We have even done some
EMDR
which, for me, was nothing short of miraculous. We are working on getting back to that.
The most recent tool she recommended to me was guided meditation. I hope she didn't see me actually roll my eyes. Ugh, what kind of psychobabble thing is this? Sounds so hokey.
She explained to me that guided meditation is just someone walking you through short periods of mindfulness. Learning how to be in the moment. (This is one of my major goals in the big picture of life anyway.) I flat-out told her that I was skeptical. I didn't understand how this could help me. She told me to trust her.
Dangit. I can't NOT trust her. She's never been wrong. I've been on her couch at least 100 times and she has never been wrong.
She told me to go home and download an app called
Calm
. (No, I'm not getting paid to write about this.)
I didn't. A million other things felt more important and what in the world was some silly app going to do to help me anyway? Sheesh. By the time I went back for my next session, I still hadn't downloaded it. She gave me the look. You know, the look. The one that seems to say, "hey idiot, I told you this would work, but it can't work if you won't do it." She explained that resisting this is very common, not only because of general skepticism but just the fact that anxiety tends to fight you when you challenge it to try to make it go away. It fights hard. It convinces you something like guided meditation won't work at all. She patiently informed me that, like anything else, it would take practice and that over time it would get easier, less awkward and more effective. Blah, whatever!
Not long after that, I was actually visiting my parents' house back home, which is about the only time I ever actually see TV commercials. My dad had just had surgery and I was there to keep an eye on things and help with anything he might need. I was snuggled up with one of their dogs on the couch, just relaxing. Suddenly, a rain scene came on the TV, accompanied by the heavenly sound of nothing but a rainstorm.
Within just a few seconds, I commented that it made me feel so calm!
Imagine my surprise, and maybe spiteful displeasure, when the commercial was actually for that Calm app.
DANGIT.
She is never wrong.
When I got back to my hotel room, I downloaded this app, still rolling my eyes a little. Maybe a lot, I don't remember.
I had promised the therapist (I really should make up a name to use here for her) that I would try this guided meditation every day for two weeks and report back. Granted, by this time that was a two-month-old promise, but I figured I should still do it.
The first few times, I felt nothing. No difference. True, it helped me take some deep breaths, which is always helpful. But nothing more. But as the days went on and I started making a habit of meditating right after I came home from work, I could feel it starting to sink in. I was starting to actually crave that ten minutes of being completely in the moment, and I was getting better at it.
The more I practiced, the better it worked, the better it felt, and the more I craved it. I even paid for a subscription to the app, which is something I don't normally do. This gives me new meditations every day and a lot more. I also love the Sleep Stories section of this app. I rarely make it past about three minutes in to a sleep story before I'm snoring. Some of the sleep stories are actually just audio of Bob Ross's
Joy of Painting
shows! It sounds ridiculous, I know, but that guy's gentle voice just knocks me right out.
(Side note, did you know that Bob Ross lived in Alaska for several years and got the ideas for many of his paintings from things he saw here?)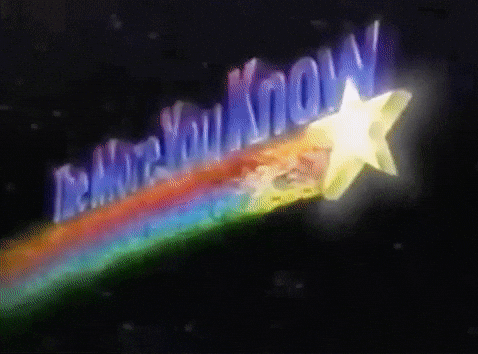 I haven't been perfect about meditating every day. Actually, the last couple of weeks, I kind of fell out of the habit and I can tell a difference. It's harder for me to manage the anxiety. I have a harder time staying in the moment and my baseline anxiety seems to be a bit higher. I think I would say that the meditation has given me a sense of empowerment. I feel like, overall, I can better tame the anxiety beast instead of it taking control of my world completely at random.
It's not easy for me to reveal so much about where I'm at with my anxiety these days. It makes me feel weak and lame. But I know I'm not the only one dealing with it. If you're in this terrible club with me, do yourself a favor and check out guided meditation. And then stick with it. It's just like exercise - if you stop, the benefits stop too.

Oh, and one more thing about the Calm app. It has content for kids! Sleep stories and simple meditations too. It's something the kiddo and I can do together that helps our whole family. With any luck, he will learn at an early age how to cope with his own "big emotions" (like mine) in a healthy way.

Whether you have anxiety or not, do yourself a favor and go check it out!